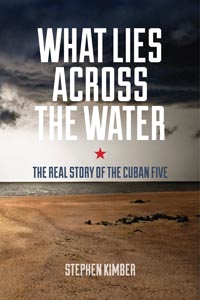 Paperback ISBN: 9781552665428
Paperback Price: $29.95 CAD
Publication Date: Aug 2013
Rights: World
Pages: 296
Buy Now!
Examination Copy
Professors/Instructors in Canada: We will provide examination copies of our books for consideration as course texts. We do reserve the right to limit examination copy requests and/or to provide books on a pre-payment or approval basis. For examination copy requests from USA, UK and Europe, please see our Ordering Page. For requests from all other countries—shipping charges will apply.
Request Examination Copy
What Lies Across the Water
The Real Story of the Cuban Five
"Provides the key information and analysis needed to understand the case of the Cuban Five" — Danny Glover, actor, activist
"The most complete — and moving — account of the Cuban Five I've yet read." — Wayne Smith, Director, US Interest Section in Havana, 1979-82
"Far from being a boring account of deeds and misdeeds, Kimber employs eloquent prose and an enjoyable style to draw the reader into the tangled layers of terrorism and murder, espionage and deception, propaganda and myths, life sentences and impunity, meanness and hatred, love and sacrifice, romance and solitude, patriotism and delusion, good intentions and bad, and lies, lies, and more lies." — Havana Times
"This book removes the thin fabric of lies around the case of five Cuban intelligence agents who came to Miami to fight terrorism ... This book has the detail and the analysis. Read it." — Saul Landau, Director of Will the Real Terrorist Please Stand Up?
"An invaluable and informative account of the last chapter of the Cold War between Cuba and the United States — a story that is alternately bizarre, surreal and ever suspenseful." — Ann Louise Bardach, Author of Without Fidel and Cuba Confidential
What Lies Across the Water recounts the events leading up to the arrest of the Cuban Five, five Cuban anti-terrorism agents wrongfully arrested and convicted of "conspiracy to commit" espionage against the United States. In response to decades of deadly attacks by Miami-based, anti-Cuban terrorist organizations, Cuba dispatched five agents — Gerardo Hernández, Ramón Labañino, Antonio Guerrero, Fernando González and René González — to Florida to infiltrate and report on the activities of these terrorist groups. Cuba even passed on information their agents learned about illegal activities to the FBI. But, instead of arresting the terrorists, the FBI arrested the Cuban Five on September 12, 1998. The five men would be illegally held in solitary confinement for seventeen months and sentenced to four life sentences in 2001. The terrorists these five men tried to stop remain free to this day.

In light of America's supposed post-9/11 zero tolerance policy toward countries
harbouring terrorists, the story of the Cuban Five illustrates the injustice and hypocrisy of this case: why were these men who tried to prevent terrorist attacks against Cuba charged with espionage against the U.S? And why does the U.S. continue to protect and harbour known terrorists?
Contents
Cast of Characters • Prologue • Building the Nest • Rescuing the Brothers • Shootdown • Stinging the Wasp • "Something serious…" • "This is really fierce…" • "A duty to prevent…" • The "Memphis Incident" • Gabo's Secret Mission • "I sleep like a baby" • "The very heart of our system…" • Aftermath • Whatever happened to… • Acknowledgments • End Notes • Selected Bibliography
About the Author
Stephen Kimber is a professor of journalism at the University of King's College in Halifax and an award-winning writer, editor and broadcaster.
Reviews